Special Events
Debates and forums Over the course of the campaign there will many opportunities for us to share ideas. Locations, dates and time will be posted here.
read more
News Archive
Candidates Vie for City Council Seats Daily Californian - July 26, 2010 As of press time, Arreguin's only current opponent is Bernt Wahl, an entrepreneur, Fulbright fellow and UC Berkeley industry fellow at the Center of Entrepreneurship ...
Blogroll
Testimonials
To lodge all power in one party and keep it there is to insure bad government and the sure and gradual deterioration of the public morals.

Political Parties

Democratic Party (1799)
Republican Party (1859)
Constitution Party (1992)
Green Party of the United States (1996)
Libertarian Party (1971)
America First Party (2002)
American Party (1968)
American Patriot Party (2003)
America's Independent Party (2008)
Boston Tea Party (2006)
Communist Party of the United States of America (1919)
Florida Whig Party (2006)
Independence Party of America (2007)
Moderate Party (2006)
Modern Whig Party (2008)
National Socialist Movement (1959)
New American Independent Party (2004)
Objectivist Party (2008)
Party for Socialism and Liberation (2004)
Peace and Freedom Party (1967)
Pirate Party of the United States (2006)
Progressive Labor Party (1961)
Prohibition Party (1869)
Reform Party of the United States of America (1995)
Rents are Just Too High Party (2009) Socialist Equality Party (2008)
Socialist Party USA (1973)
Socialist Workers Party (1938)
United States Marijuana Party (2002)
Unity Party of America (2004)
Workers Party (2003)
Whig Party (1776)
Working Families Party (1998)
Local news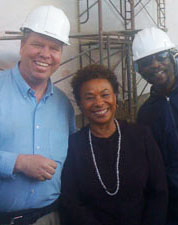 Bernt Wahl with Barbara Lee and student
30-07-10
We the People in order to form a more perfect union ...
What is going on in Berkeley, especially in our 4th District ...
all news & events