A Few Words About Running ...
As the People of Berkeley, we need to work together to build a better community. Through an awareness of the issues and concerns of the people that live and work here, we can implement positive action. I have listed a few ideas and suggestions, over time we plan to list more of your concerns.
Action speaks louder than words ...
Here are some action items that should be looked at in improving Berkeley's 4th District. These suggestions should be examine closely in the context of cost benefit analysis.

Berkeley Neighborhoods

Neighborhood beautification - with trees, gardens and amenities
Enhance citizen's safety and comfort
Leeds Neighborhood Certification

Facilitate neighbor friendly

communities

Downtown Berkeley

Make downtown a destination
Make downtown walker friendly
Increase commerce and extend hours
Match business with vacant storefronts

Provide nights and weekend activities

Free downtown Wi-Fi

Provide shuttles to shopping
Utilize university spaces eve., weekends
Beautify downtown and neighborhoods
Have responsible growth (long-term)
Provide specified bill posting areas


City Services

Have greater/easier communications with citizens
Provide citizen reporting smart phone/GPS/texting capabilities (e.g. potholes, street lights, water mains)
Social networked neighborhood watch groups with online services
Better community emergency planning
Look at long-term goals and true costs

Crime Reduction

Electronically monitor thefts (bikes and laptops)
Increase ease of crime reporting
Better citizen - police integration
Ease citizen reporting with photo-GPS messaging

Jobs

Provide a business friendly environment in which firms wants to hire local people
Work positively with existing business
Match local job needs with available talent
Encourage appropriate firms to locate in Berkeley
Build on Berkeley's strengths
Think long-term economically
Make use of brain trust of talent
Encourage entrepreneurship at all levels

Energy Plan

Think in terms of the long-term
Priorities policies in terms of payback
Utilize the resource available
Use Berkeley's unique access to its great scientific community
Build on past successes, remember California pioneered solar heating industry in the 1880's
Technology Uses...
The Bay Area is home to many emerging technologies. Here are ideas we can use to help make Berkeley a better place...
GIS - to match empty storefronts with prospective businesses 1
Stolen laptop tracers 1
Bike tracers to prevent thefts 1
Free Expanded Wi-Fi 1
Citizen Comments 1
Build emergency response system
Community Neighborhood Network
Local GPS Landmark Annotations
Local Entrepreneurship Centers ...
Squid Labs 1
Venture Labs 1
Citizen Action ...
Citizens need a place to make suggestions. Here is a site where people can list concerns and provide suggestions, the comments posted here do not necessarily reflect our campaign's views but people need a place to voice their thoughts, we will monitor the site to see what people's concerns are here at forum.powere-to-the-people.us
Our city can support citizen participation by providing transparency and accountability in government. Political contributions can be monitored at Maplight.org Maplight is a local organization located on Shattuck Ave. in downtown area.
Rating
Here are major concerns for the Berkeley 4th District:
Press Releases
As the Berkeley City races progress additional postings will be made.
News on the Berkeley District 4 City Council race
Berkeley's zip code 94703 is considered the hottest real estate market in the country.
Political Contacts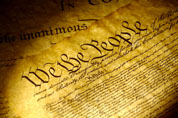 Candidates Connections
On the road to public office it is often important to be well connected.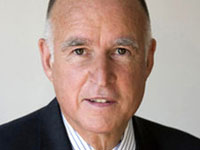 I got to know Jerry Brown when he invested in YellowGiant an Internet company I co-founded. He would come to our Oakland office and ask to see what we were working on. He is always full of ideas.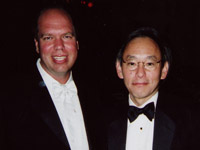 Steven Chu is our former LBNL director and he is currently serving as the Secretary of Energy. I enjoyed our discussions on energy efficiency and new evolving systems. My favorite quote of his is "Fusion energy is always just 50 years away."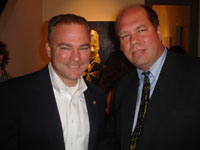 My friend Barney Pell, invited me to see Tim Kaine, head of the DNC and former Virginia Governor. It was an informal summit for Silicon Valley entrepreneurs.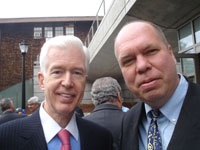 Former California Governor Gray Davis at our Citris Center opening at UC berkeley. I was thrilled when he asked me for my business card.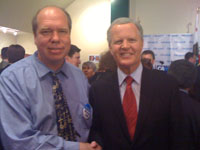 Here I am with Tom Campbell. He was our Congressman from 12th District and UC Berkeley's dean of the business school. Dr. Campbell is a fine economist.
Here is a discussion with Frank-Walter Steinmeier, German's former Foreign Minister and acting Vice-Chancellor. We are discussing alternative energy policy.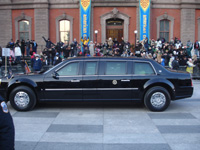 Sometimes you just happened to be at the right place at the right time. Here President Obama and First Lady just happened to stop in front of me to get out during the Inauguration Parade.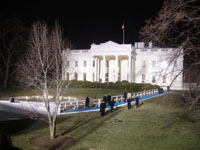 On Inauguration Day I captured the only photos of the President and First Lady entering the Whitehouse for the first time as the First Couple.
As your Berkeley City Councilperson I plan to tap UC Berkeley's tremendous talent pool of economist, public policy advisors, technologists and city planners to help with revitalizing our downtown and surrounding areas.