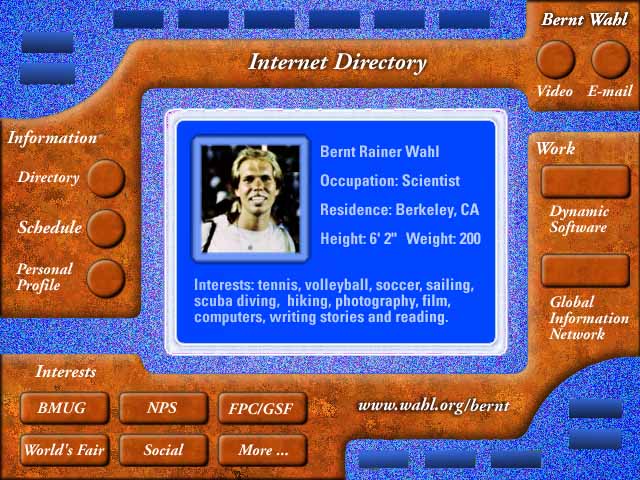 Person: Bernt Rainer Wahl
Information:
Work:
Projects and Affiliations:
Adventures of the Fractal Explorer
After All These Years ( Granite Rock's Reunion Album )
Arcade Games Development
Art Deco Society
Bay Area World's Fair (TM)
Berkeley Voice
Catalogs
Chaos Corner
City Hompage
Collector's Corner (TM)
Coast Guard Auxiliary
Dynamic Pictures (photo library on-line / movie studio)
Fractaland
House of the Future
Heir to the Kingdom (story)
Letters Online
Museums Online
Nations' Web Page
NEFVF
Physics Labs
Quotations
Smart Art (TM)
Sniffer - The Intellagent Agent Project
Surf City (TM)
UCSC ( The Daily Slug TM )
Virtual Classroom (TM) - self paced exams
Online Library (TM)
Interests:
Top Sites:
Interesting Sites:
Cyber Cash
Double Click
Point Cast
Bernt Wahl video
Bernt Wahl email
More...
Bernt Wahl | Go Somewhere | What's New | Index | Feedback | Help| Story of the Week
---
Welcome to the W.A.H.L. web site. I apologize that so much has yet to be accomplished and the work is found in such a state of disarray. Displayed here are current projects, things that I wish to share with anyone interested enough venture to the here. As time goes on I hope to have more worthwhile places for you to explore.
Sincerely,
Bernt Wahl
Send any questions or problems regarding this site to wahl@wahl.org .
last updated by webservant on 8/22/96
This project was produced by Bernt Wahl with help from my family. Please email wahl@wahl.org with any suggestions, comments or feedback! The Wahl family retains the copyright to all names, text and images used. Images and text may only be used for limited non-commercial use with proper credit given or with written permission from The Dynamic Software Company. All other trademarks are the property of their respective owners. Backgrounds are supplied by Jhane Barnes Inc. and The Dynamic Software Company and may only be used with their permission. .

Web Works Center this site is still under construction so there are some features that still have not been implemented, thanks for your patience.
---
Copyright (c) 1995 Bernt Wahl. Creation Date: 8/22/95 Last modified by webmaster on 9/28/96